Thank You for Stopping by!
Here is our


Halloween Fun Scare
Web Site Guardian
Happy Halloween.

Vote n Review |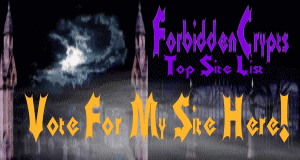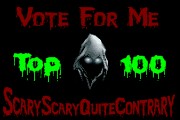 Laceys

Click Here to Visit Horror Society Top 100

Spookysites

Vote for this Site! at soprano.com Ty


Thank You Karen and Horrorfind.com for this great book.

Hi, Congratulations! You're a winner in the Horrorfind.com February Contest. The prize you have won is a 'Necroscope II Book Autographed' Your prize will be shipped out to you this week. Be sure to tell all your fiends about our new contests each month.
~Karen

Vote above and check out there contest.

.

**

Batavia Costume $129.00
Batavia, mistress of the night. Tingle your senses with this bat inspired quality costume. Truly made with the highest quality standards, this black, grey and white gown is a cleavage enhancing delight with sexy gloves and bat wing detail. Women's size S, M, L, and XL.
**
Martha Washington Costume
$129.00
Includes period dress and cap. Available in women's sizes S, M and L.
If You would like to start at our first page its here
Halloween Fun Scare Main Page. Home Page

Thank You Salem


"Congratulations on being chosen "Site Of The Week"
at Salem's Topsite List. Your award is attached."
Salem
Salem's Topsite List (Click to vote for us)

**

Stop on by Halloween Fun Scare

..GO This way ~~> ~~~>>...
<~~
B00 Feel free to get comfortable and make yourself at home.
;0)
"Enter Us In Best Of Halloween Sites and Vote for this site !!!"
Thank You!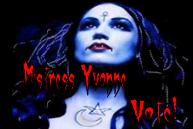 Mistress Yvonne's Frightening
**

Box of Nine Skulls - $ 89.00
Get more bone for your buck! For a limited time, we're offering boxes of 9 realistic, hard foam skulls at a drop dead price. Each skull measures approximately 6 inches by 7 inches, with death-like details. Retail value: $89.00!


**

Vampire Flyer - $ 9195.00
A centerpiece illusion sure to impress your guests. Pneumatic system raises vampire actor 5 feet as the wings unfold to an approximately 14 foot extended wingspan. Includes mounted vampire bride, tape player, amp, sound tape, fog machine, and red gel LED light. Requires 125 psi air compressor. PLEASE NOTE: This item is a Special Order and may take 4 to 8 weeks for delivery. Please call us for availability if you need this item sooner.


**

Ghostly Window Illusion - $1795.00
It appears to be your average window until the slightly transparent ghost appears. She then disappears only to return again. This illusion comes with everything you need, including the ghost. This is a BIG illusion! Floor space required is 2 feet 10 inches by 5 feet 8 inches, and 4 feet high. PLEASE NOTE: This item is a Special Order and may take 4 to 8 weeks for delivery. Please call us for availability if you need this item sooner.

**
Find the best music and spooky sound effects to set the mood for your ghoulish get-together. All Halloween spooky songs are compatible with MP3 players, including the iPod®. Find more free music, bestselling songs from $.89, and albums for $8.99 or less Once you've set the mood, settle in for an evening of horror and thriller films available to watch right now on your Mac or PC, commercial-free. With the latest horror film franchise, Saw, on the sale now and each week in October More horror! Explore!
Stock up on all kinds of candy and treats that your trick-or-treaters will love. Candy
The Joker is the yin to Batman's yang. They need one another to exist; one to be good, the other, evil. This Batman: The Dark Knight The Joker 1:6 Scale Deluxe Figure (The Joker Is So Scary, It Isn't Funny) presents the creepy clown prince of crime just as he looked in this summer's top blockbuster film. Armed with a knife, a stunning likeness, and 28 points of articulation, this figure is one collectors can't afford to miss. Be sure to add him to your home or office, but keep an eye on him. He doesn't look all that trustworthy.
Unlimited Clip Art, Animations, Fonts, and Web Graphics!$49.99
~
Delight your friends during this spooky season.
And
More Happy Halloween Pages Stop on by Halloween week for our yearly spook walk!